Whether visiting an accountant, a dentist or a doctor, we all assume that the professionals we consult hold the suitable qualifications to be providing a truly competent service. When looking for good financial planning advice it is important to understand the different levels of adviser qualifications out there, and the calibre of knowledge and expertise you can expect from the various categories of these advisers.
For British expatriate clients there are three main levels of financial adviser qualifications that you should be aware of.
Level 3 Financial Adviser Qualifications
The most basic or entrance tier is the certificate level which is classed as a level 3 qualification within the UK framework, equivalent to A levels. Level 3 qualifications include:
CertCII: Certificate in Financial Planning issued by the Chartered Insurance Institute
CertPFS: Certificate in Financial Planning issued by the Personal Finance Society
CeFA: Certificate in Financial Advice issued by the Institute of Financial Services
Cert IM: Certificate in Investment Management issued by the  Chartered Institute for Securities & Investment
Level 3 qualifications are sometimes held by adviser office staff and certain mortgage or protection advisers in a bank for example. These certificates require passing a selection of exams over 1-2 years and holders will have a general grounding in financial planning and financial services.
Level 4 Financial Adviser Qualifications
However, since 2012 financial advisers in the UK have been required to hold a minimum of a level 4 qualification to be able to continue to provide independent financial planning advice.
The minimum required qualification to provide independent financial planning advice in the UK is now the diploma level, a level 4 professional qualification.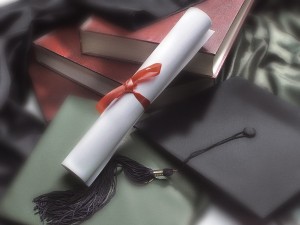 Look for the following letters or designations to identify a level 4 adviser:
DipCII: Diploma in Financial Planning issued by the CII
DipPFS: Diploma in Financial Planning issued by the PFS
DipFA: Diploma in Financial Advice issued by the IFS
IAD: Investment Advice Diploma issued by the Chartered Institute for Securities & Investment
Building on the certificate knowledge, level 4 advisers will offer a well rounded understanding of financial planning and products, from general investments, structured products, to basic pension, protection, tax and savings advice.
Level 6 Financial Adviser Qualifications
A full two levels higher are the profession's top tier of financial advisers; holders of level 6 qualifications equivalent to a bachelor honours degree. Completing a comprehensive suite of professional exams over many years, these top-flight advisers will be designated through one of the following:
APFS: Advanced Diploma in Financial Planning issued by the CII
CFPCM: Certified Financial Planner
Adv DipFA: Advanced Diploma in Financial Advice issued by the IFS
Advisers at this level will have advanced expertise in the main areas of general financial planning.
Clients who require expert advice in matters such as investment management and portfolio construction, complex estate planning, inheritance tax mitigation, the use of trusts in family wealth planning, pension and pension transfers, QROPS, personal tax planning, business financial planning or general holistic financial advice will always be better off consulting a level 6 adviser.
To be awarded the Chartered Financial Planner status – the pinnacle of the financial planning profession – an adviser must hold level 6 qualifications, be a member of the Personal Finance Society (PFS), have a minimum of five years' relevant experience and commit to continuing professional development.

CFPs and Chartered Financial Planners are the elite of the financial planning profession. They have demonstrated not only advanced technical knowledge and financial planning expertise, but also an exceptionally high level of commitment to their clients through the time and money they have spent in attaining their qualifications, enabling them to give advice of the highest calibre.
Specialist Qualifications
Certain areas of advice require the adviser to hold specialist qualifications. For example clients who are considering pension transfers from defined benefit schemes to Self Invested Personal Pensions (SIPPs) or Qualified Recognised Overseas Pension Schemes (QROPS) should ensure that they consult advisers who hold the G60 or AF3 qualification to ensure they receive proper advice. Most Chartered Financial Planners hold the AF3 certification, which is the most advanced qualification relating to pension and pension transfer advice. This is an area that needs to be treated with particular care and prudence, especially for clients living outside of the UK where they may be easy victims for bogus advisers.
The Road to Chartered
The Chartered Insurance Institute awards qualification points to advisers as they study for and pass examinations in specialist areas of knowledge. From tax planning, protection planning to pension planning or portfolio management, advisers are awarded points for each specialist examination passed (normally around 15- 20 points per exam). To earn the certificate level 3 designation advisers will need to build up a total of 70 points. For the diploma level, the minimum level for providing independent advice in the UK, an adviser needs 140 points. However, to attain the advanced level 6, and apply for Chartered status, advisers need to accumulate a massive 290 points, more than double the required level today in the UK.
Warning
International expatriates should be aware that regulations governing advisers in international and offshore jurisdictions are generally not as rigorous as in the UK. As a result, many advisers offering advice to international clients are often not even qualified to basic level 3 standards, even in cases where advice is given on complex matters such as QROPS and other pension transfers. Some international advisers do hold the CII's Award in Financial Planning (Award) or the Financial Advisers International Qualification (FAIQ), and while this provides a very basic general knowledge, these level 2 qualifications are only equivalent to school GCSE's and worth just 12 and 15 points within the CII's qualification framework.
All too often, however, we come across "advisers" who don't have any professional qualifications at all and have no business advising anybody about their well-earned money.
Whomever you choose to work with, make sure that your adviser is qualified to the level you would expect in relation to the importance and complexity of the advice you are seeking.